I don't think I have been busy lately, but I guess I have been. I didn't accomplish nearly enough of my October goals and look here, it is already November. I took a lot of pictures on my iPhone in October. So this is going to be one serious Friday phone dump.
Since my last blog post, one of my best friends in the world visited with her husband of one year. She was in Washington for a friend's wedding and she tacked on an extra day so we could hang out. I met up with her in Portland for dinner and drinks. I found out, we're not in college anymore, even though we partied like we were. It was so much fun, we hit some empty bars on a Monday and talked about the past, the present, the future. I miss my friend and I am glad she came to visit. We went to Multnomah Falls and the Vista House at Crown Point. It was SO windy. We got out of our cars, snapped a picture and tried our darnedest to hang on to our cameras. Then we went to our favorite pizza place, Signal Station Pizza for dinner.
i spiffed myself up and jeaux drove me downtown with the kids to drop me off at the restaurant.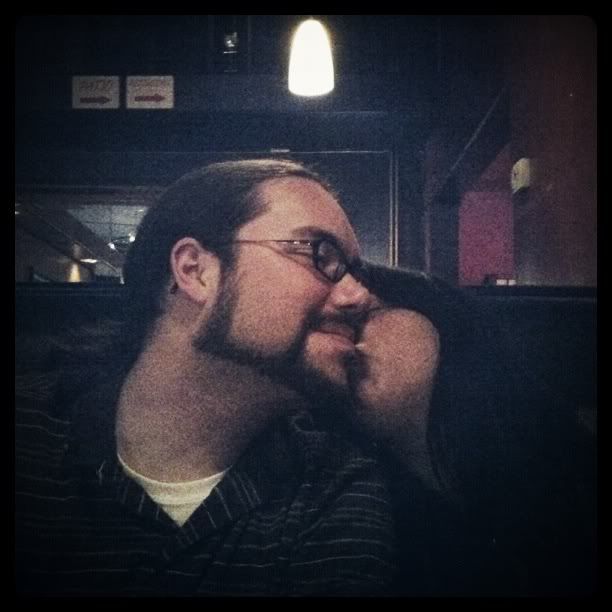 eric and kristi - eric is such a gentleman and kristi is a great person and friend. we met over 10 years ago when we studied in mexico together and i sat next to her on the flight there. friends ever since.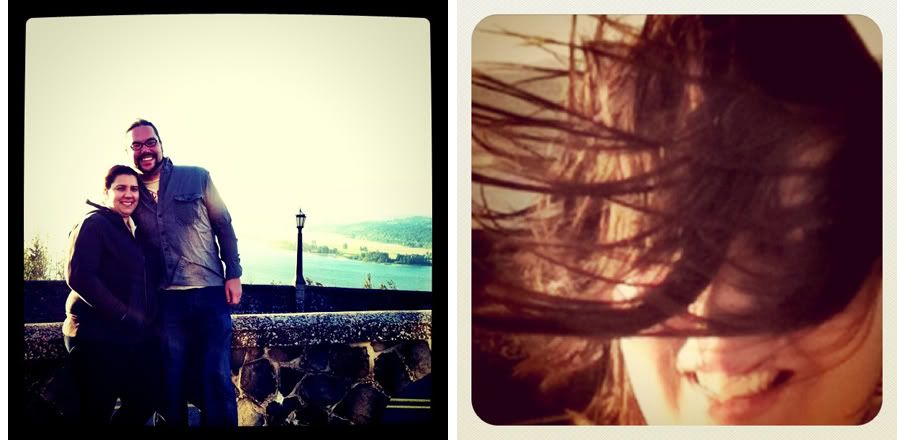 holy windiness. luckily eric and kristi had their hair in ponytails so they were spared the hair lashing that i got. it was a beautiful day in the gorge but "high winds" was an understatement. joe got out of the car and rushed right back to his seat because he was afraid he would blow away.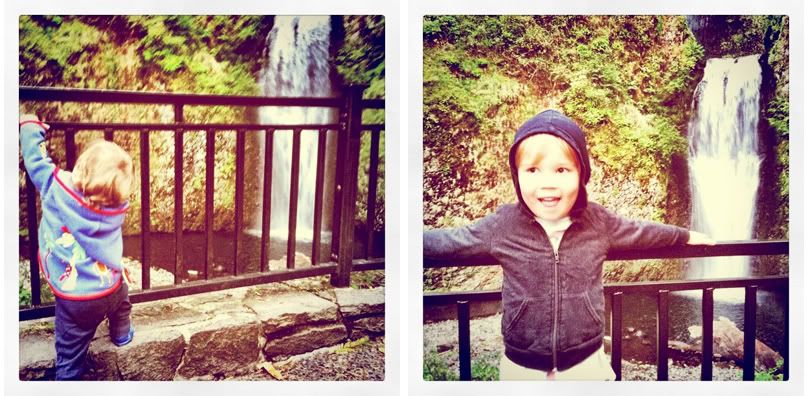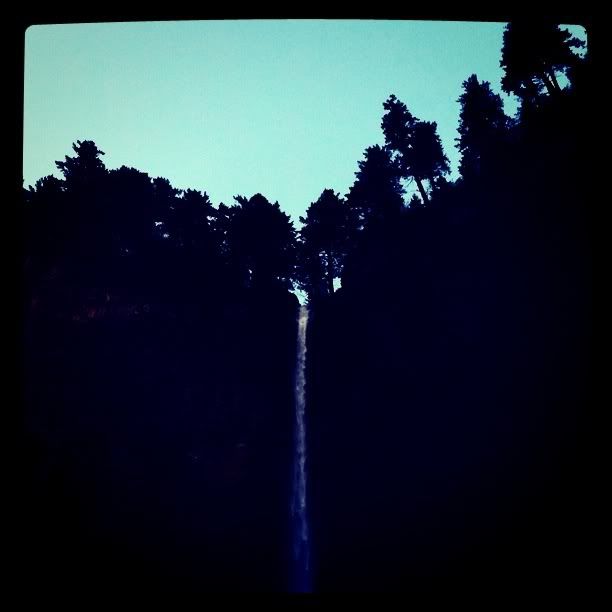 last stop was multnomah falls. this was where jeaux proposed to me in may 2004 all the way at the tippy top.
So after Kristi visited, my mind shifted to Halloween. We worked and worked to get Joe's Indiana Jones costume just perfect. We decided Sam would be an octopus. We thought about having him be Short Round to complement Joe's Indiana Jones but we just gave up on finding the stuff for the costume. Poor second kids!! So I bought him a bunch of knee socks from Target and I stuffed them and sewed them to a ribbon that I had in my craft room. I got my inspiration
here
. Wished I would have thought of it myself. Sam got so many compliments on his costume. It was fun and easy and different. I used some felt that I had to sew eyes to a hoodie I bought at Target. For the 7th and 8th legs he wore grey leggings from Target with knee highs pulled up. I hot glued some buttons to make the suckers on the tentacles.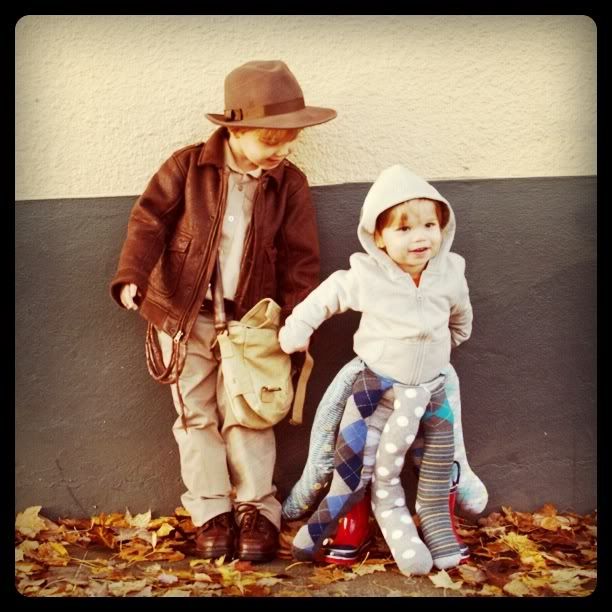 here's my guys. indiana jones and the octopus doing the downtown st. johns trick or treating thing.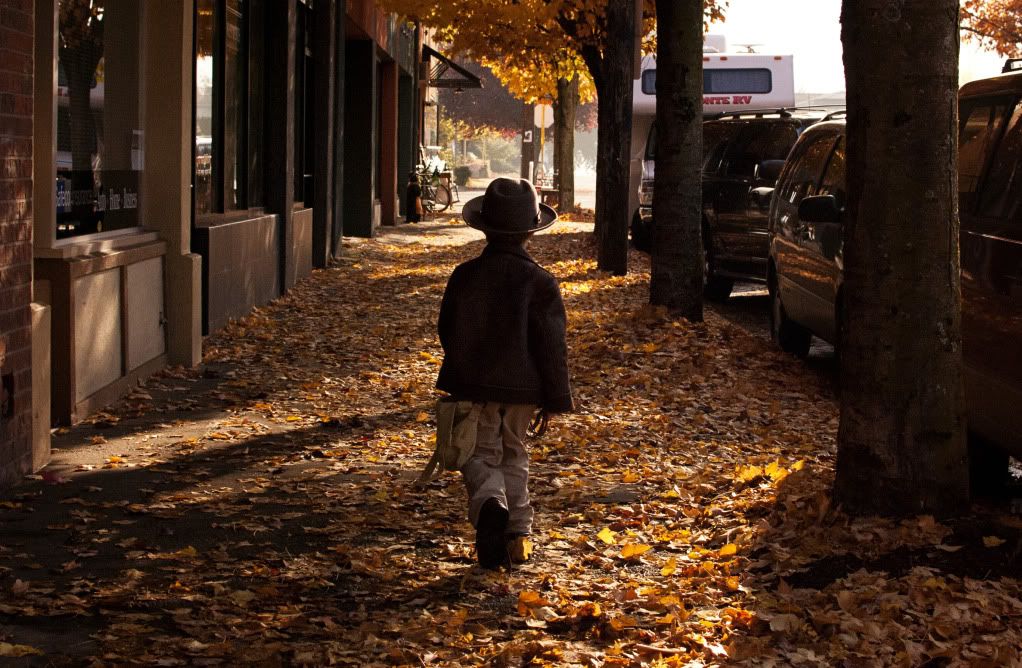 that's how you trick or treat. done.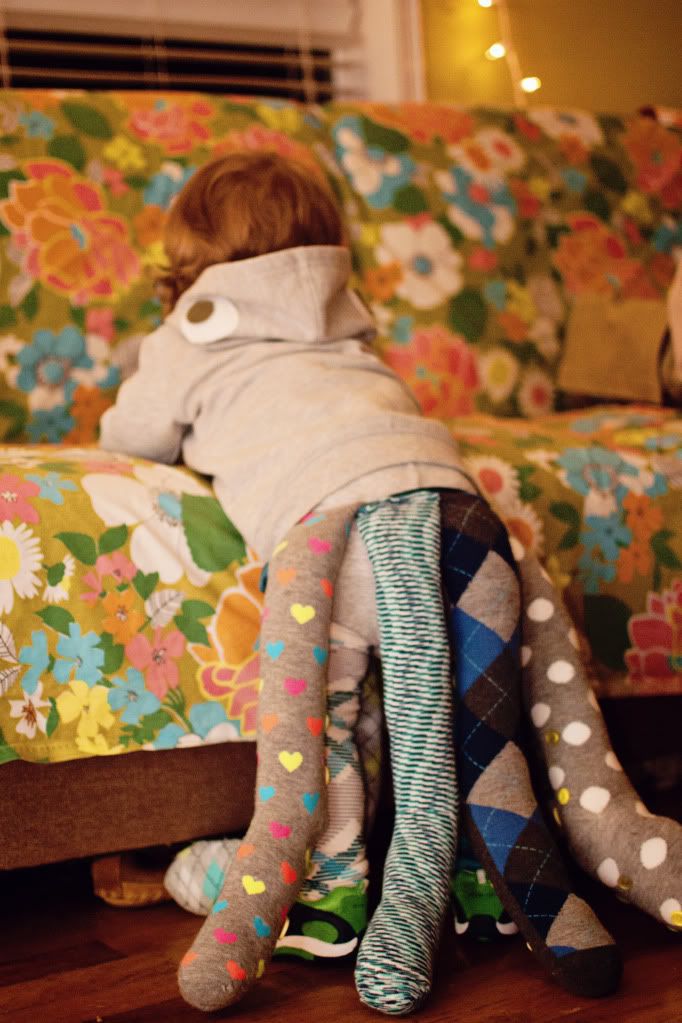 here is sam. you don't wanna know why he was just hanging out waiting for me to take his picture. the great thing about this picture was that it was the first time i bounced the flash off the ceiling, which gave me like a lot of hope.
So before actual Halloween, my friend and i were talking about going out on the Halloween weekend. She mentioned that another friend mentioned that McMenamins had an 80s videos dance party, Halloween style. I had always wanted to go to the 80s party and here was my opportunity to go as long as I could find a costume. Nicole mentioned going as a Zombie prom queen since she had bought a dress from Goodwill. I had a dress that could be prommy too (see friend above and her wedding) so I thought maybe we could go as prom queens or whatever. I had no idea her dress would be pretty similar to the one I had. I picked up some red patent leather wedges from Goodwill, fishnet stockings from Target that I made into leggings and gloves, and some bangles and red feather earrings. So anyway, we busted out our fake blood, our white/black makeup and our black knee length dresses (with pockets - thanks WHBM and David's Bridal) and we pretty much boogied to 80s music as Zombie promgoers. Super fun.
One thing I learned from Halloween this year is that every adult should dress up for Halloween. Even if you are a hater, just try it. It was fun to see the creativity that adults put into their costumes.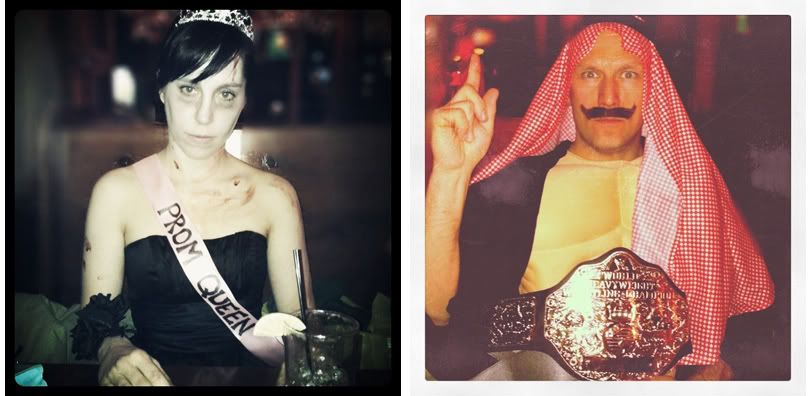 zombie prom queen and the iron sheik!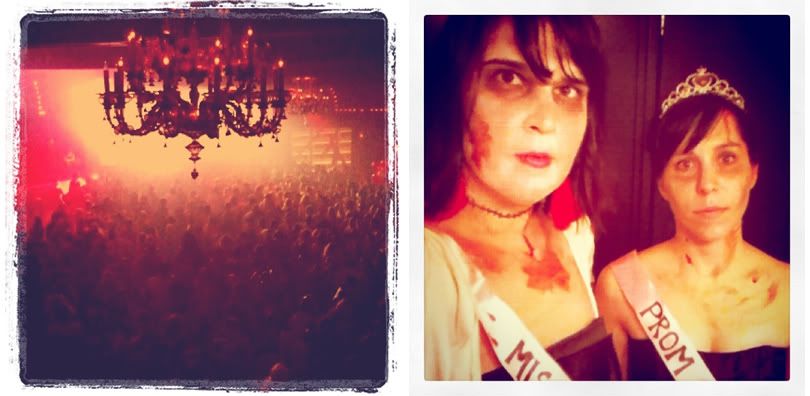 sea of people dancing and the two zombie prom queens.
that was my october. super fun.